September 2021 -

 National Childhood Obesity Awareness Month and National Preparedness Month
Sponsored by the Childhood Obesity SIG and the Children in Disasters SIG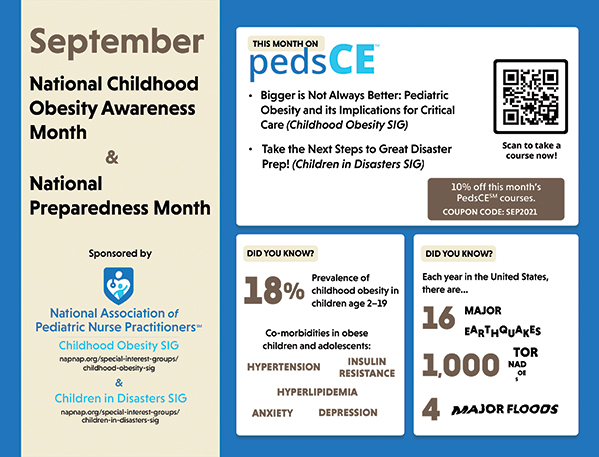 Check out the SIGs page for more resources, to learn more, and join!
SIGs Resources
1. National Institute for Children's Health Quality Obesity Toolkit
2. Disaster Preparedness for Pediatric Healthcare Professionals (collaborative effort between Acute Care SIG and Children in Disasters SIG) and Preparedness Resources for Families (collaborative effort between Acute Care SIG and Children in Disasters SIG).
PedsCE courses
1. Bigger is Not Always Better- Pediatric Obesity and its Implications for Critical Care (Childhood Obesity SIG)
2. Take the Next Steps to Great Disaster Prep! (Children in Disasters SIG)
10% off this month's PedsCESM courses with the coupon code: SEP2021
"Did you know?"
1. Michelle Obama started the "Let's Move" Campaign in 2010 to promote physical activity and healthy eating.
2. Did you know about the Every Kid Outdoors pass that offers 4th graders and their families FREE access to hundreds of national parks?
3. The current prevalence of childhood obesity in children between the ages of two and nineteen years group is 18.5% (CDC, 2019).
4.Ward et al. (2017), state that children who are obese at the age of three are close to one and a half times more likely to be overweight in adolescence.
5. Co-morbidities in obese children and adolescents include: hypertension, hyperlipidemia, insulin resistance or impaired glucose tolerance, anxiety, and depression (Black et al., 2015; Kim et al., 2017; Kinlen et al., 2018; Mannan et al., 2016).
1. Did you know children comprise 25% of the US population? For years planning for children in disasters was lacking. We as Advanced Practice Nurse Practitioners who care for children can have a role in planning for and caring for children and their families when disaster strikes. We can be involved in any of the disaster phases: preimpact, impact and post impact. We can have a role in many areas: preparedness, protection. mitigation, response, recovery and evaluation.